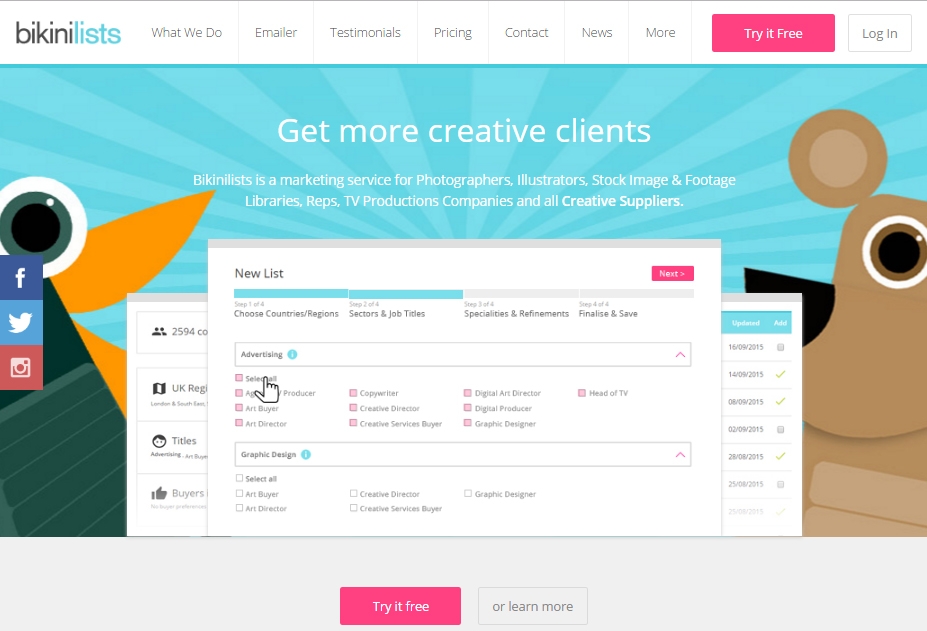 Subscribing to a list service doesn't sound very exciting, but it's an effective way of finding new clients in the creative industries. Here's a look at what's available to today's creative…
Marketing. It can be the bane of your life if you are a creative professional. While it's true that some of us love the cut and thrust of seeking out and landing new clients, for many creatives marketing yourself just gets in the way of… well… being creative. Photographers, illustrators, designers and visual effects pros don't spend years honing their skills and developing their unique styles in order to sit around fiddling with email marketing campaigns. For many, it's a chore you might undertake after updating your portfolio, and only if there's no coffee in the house and no work coming in.
However, if you want to widen your client list, work with different companies, and test your creativity in new and interesting ways, marketing lists are a worthwhile avenue to explore.
The good news is that UK creatives are served some very good and very economical services to help them find new clients. BikiniLists is a company that sells access to contact lists, but the background and expertise they have within the creative industries is something you can put to your advantage. Not only that, but compared to list marketing services available to other industries, BikiniLists is extremely cost effective.
Let's just have a quick look at the numbers. BikiniLists will charge a photographer around £500 for a year's access to a list of over 10,000 contacts across UK advertising, design, publishing, editorial and PR. Compare that to the £2,200 a general business would pay a firm like Data HQ for the same number of contacts, but for a one-off mailing only. (These prices exclude VAT.)
What lists are available?
BikiniLists don't only cater to photographers, and their data isn't limited to the UK either. They offer their services to illustrators, designers, production companies, agencies, stock libraries and more. If you want to reach out beyond the UK market, you can use lists covering the US, Europe and Asia via BikiniLists.
How it works
Using lists for self-promotion has become a lot more sophisticated than simply buying a list and then sending examples of your work to all the contacts on it. BikiniLists offers a more rounded service.
Although you can sign up online, the process usually begins with telephone consultation. A team member will discuss your work and your career with you, and determine which offer is most appropriate. If you're just starting out and haven't set up an online portfolio yet, you'd be better off sorting that out before contacting the service. On the other hand, if you're a UK illustrator with a range of publishing clients, perhaps the next step is to market yourself to publishers abroad, or maybe to creative directors in the UK advertising industry. Bikini Lists has the contacts to help you take your work in new directions.
Once you've chosen your package, you'll be given access to the data by logging into the website. You can browse the entries available to you, which will typically include the contact's name, job title, company, email address, physical address and telephone number.
From contact to client
While calling up or sending self-promotional material in the post can be done manually, BikiniLists have their own built-for-purpose mailer application. They will also help you target specific types of clients, design your mail-out, add images, and write the text and subject header.
Once your mailer has been sent out, you'll be able to see who's opened it and who hasn't, and whether or not they clicked the links enclosed. BikiniLists claim an average open rate of about 20 per cent, and say that three to four per cent of emails result in clicks. By monitoring who is taking an interest in your work, you can plan your follow-up activity.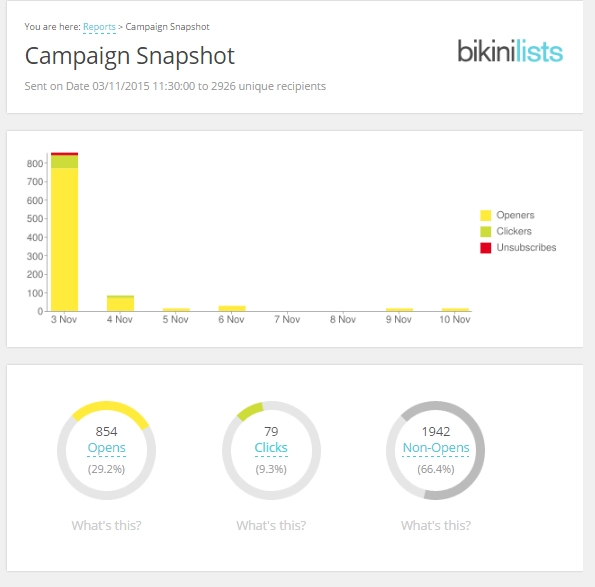 Successful email campaigns combine a bit of art, and a bit of science too. Analytical data from your mail-out is compiled automatically, and you'll also be able to draw on the company's past experience on what works and what doesn't. They'll also make sure you don't bombard potential clients with too many mailings. But what you send out has to be interesting and visually appealing to whomever is receiving your email. That part is up to you.
Segmenting your list and preparing several more targeted emails makes a lot of sense. You need to can make sure the art editor of a cycling magazine isn't receiving images of baby bottles and nappies, or that the automotive ad agency you want to work for is getting your car portfolio rather than celebrity portraits.
Some creatives strike gold with their first mailing, and land several jobs within a matter of weeks. For others, the process is more gradual. The best thing to do is to plan a series of mail-outs, and really make the most of whichever service you subscribe to. Five mailings, one every other month, will help you build up recognition over time and will show the recipients that you are both established and consistent. Over that period you can try different things in your emails, and also work out whether paying for the service is worthwhile.
Meanwhile, in the background
List accuracy is a key issue. These days there is a lot of churn in the creative industries. A studio production manager might be on the move every two or three years. Art directors and creative directors like to move from agency to agency to experience different clients and to keep their ideas fresh. BikiniLists research and update their lists on an on-going basis, and has a team of eight checking data from Sydney to LA, via Shanghai, London, Berlin and New York. They check each contact every 90 days.
Which list is right for you?
At BikiniLists you can subscribe to UK data only, or combination packages covering the UK, Europe, USA or Asia depending on where you want to promote to. BikiniLists caters to sole traders such as photographers and illustrators and larger companies like stock agencies and reps. The Association of Photographers and the Association of Illustrators both offer as a member benefit 10 per cent discount on subscriptions to BikiniLists' services.
How the figures stack up
The UK Package for Photographers costs around £500 – BikiniLists offers monthly payment terms or up-front subscriptions at a reduced cost. If you opt to use Bikini's built-for-purpose email marketing platform they will sell you pay-as-you-go email credits with pricing ranging from 5p per email to 1p per email depending on the volume of credits you need.
However, as pointed out at the beginning of this article, compared to similar services in other areas of business BikiniLists is very economical even when email credit charges are taken into account.