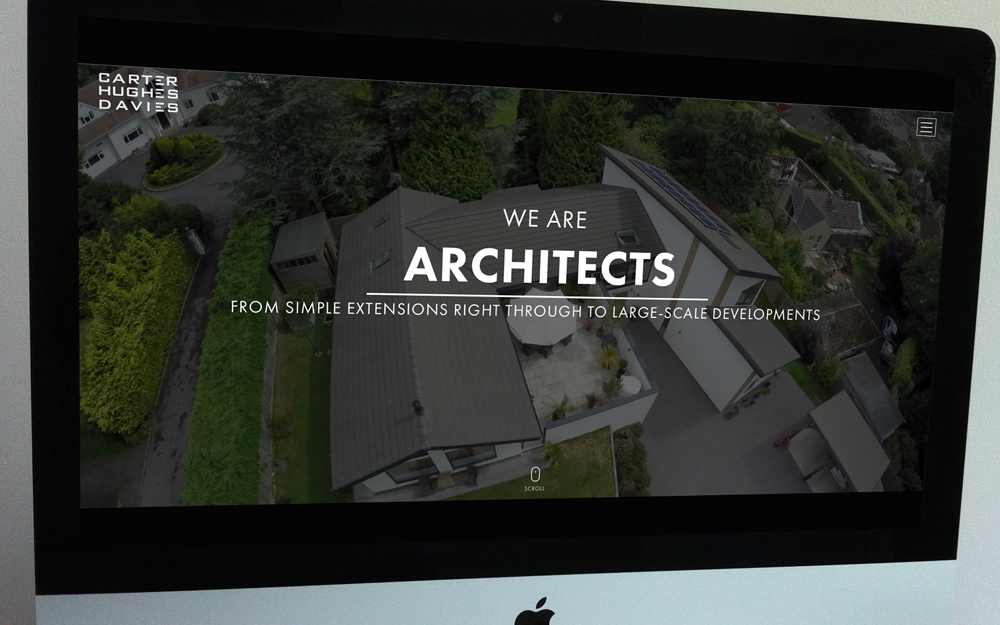 After helping them with some advertising and brand communications, I offered to help the Bath-based architects Carter Hughes Davies put together a new website. They weren't happy with their existing site, and wanted something punchy, visual and cutting edge – and that's what the new site delivers.
Visit the site here and check it out!
The website coding was handled by my good friend Antony Kitson of OneTenEleven Media, who used the WordPress platform for its flexibility. While he worked his coding magic and fielded most of the technical queries long the way, I managed all other aspects of its look and feel. The copy was written from the ground up with the dynamic nature of the site's design in mind. The emphasis is on conveying the myriad of services Carter Hughes Davies offers – from surveys and planning permission, to architectural plans and project managing construction projects. But we had to do this in a clear way without allowing visitors to the site to get bogged down in lots of detail.
Gorgeous video and photos
Then there was the cutting edge bit. Niall Carter – who was excellent to work with – had already been in touch with a drone photographer because one of the modern homes CHD has created is completely stunning, but is difficult to photograph properly from the ground. I set up a meeting with Ben Whetherly of Quincy Drones, and the perfect opportunity presented itself. No other architects practice in Bath has used drone video online, so this is a first. We decided to place the footage into the site's landing page backdrop making it feel even more dynamic, as well as using video for some of the portfolio projects.
The portfolio itself presented its own challenges. CHD hadn't done a vast amount of photography of their projects, and some of the photos they did have were fairly low resolution. We called on the services of Alastair Jennings who captured the architecture and digitally corrected the shots for use on the site. The photography adds further visual appeal, and shows off both the modern architecture the company is known for, as well as some of its wonderful listed building conversions.
What a positive experience it was putting this site together. Niall, Paul and Malene at Carter Hughes Davies have been fantastic to work with as have all the other collaborators on this project. This is just the beginning too – more articles, drone videos, photos and portfolio projects will be added each month. Have a look at images of the site, and watch a video, below: