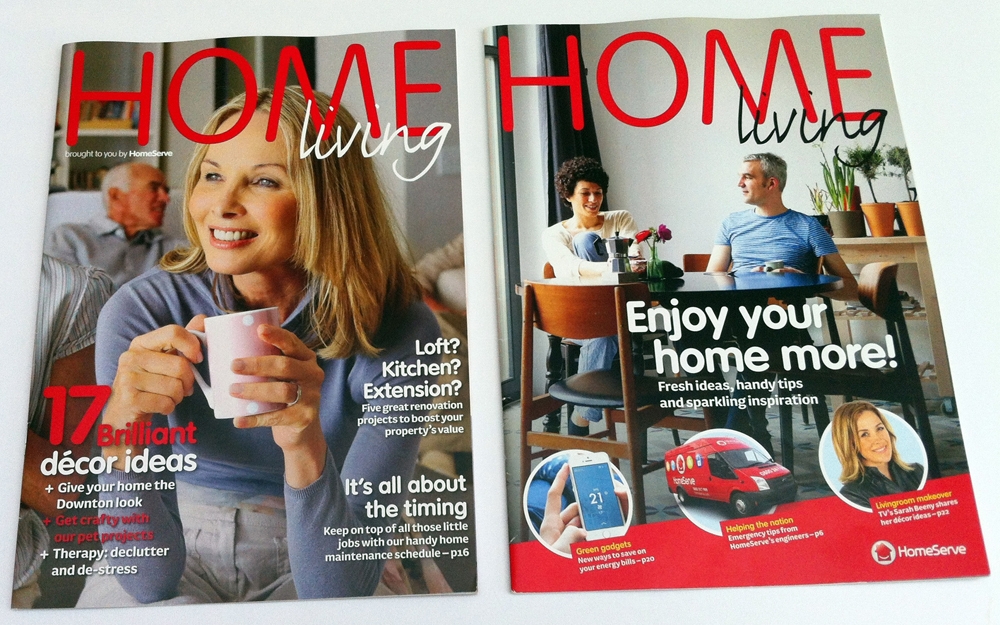 HomeServe is a leading UK insurance company that sells home emergency insurance. For instance, if you have a central heating policy with HomeServe and your boiler fails, give them a bell and they'll come and fix it. Likewise, the company covers plumbing, electrics, locks and security, pest infestation and more. Like most insurance companies, HomeServe offers fantastic deals in the first year and then strives to retain the new customer in the second and third years.
Working with the talented creative team at Future Fusion, I led the development of Home Living magazine. What we put together was a lifestyle mag to engage HomeServe customers and make them feel like they were getting more than just a 24-hour emergency hotline for their money.
Three steps to success
Firstly, I had to find various experts – including celebrities – on home decor, stylings and renovation. I commissioned them to write features giving readers a warm and comfortable feeling. Into the mix we added practical advice and tips on avoiding and/or coping with home emergencies. These would get readers all frisky about looking after their homes. Thirdly, we subtly crafted some articles about the benefits of being with HomeServe so that customers would feel secure and relaxed, and want to renew.
The work
As the editor, it was my job to manage the project. I did a huge amount of research on both home maintenance and decor, and on the HomeServe brand. I went on engineer visits to see how the repairs are done, interviewed customers and saw the company in action. This was backed up with visits to HomeServe's call centres in Walsall and Preston, and the company's training facility in Banbury. HomeServe wanted a celebrity element in each magazine, and I managed to get hold of Sarah Beeny and Ann Maurice, both of whom contributed. I wrote, edited, briefed designers and illustrators, and even took the odd photograph.
Meanwhile, I oversaw the content, design and production of the magazines taking them through HomeServe's internal compliance and approval processes, presenting all the concepts and ideas and responding to all the feedback that came through. We kept reader engagement at the top of the agenda at every stage.
The results
HomeServe's analysis shows that Home Living is effective in boosting customer retention. Just as importantly, the company is really happy with the look, feel and content of the magazine. Each issue has been reprinted multiple times. We resized the larger format version – which was initially sent to the company's premium customers – to create an A5 version for the remainder of the customer base.
Home Living has led to a whole range of other copywriting and content marketing work that I've done for HomeServe. This has included direct mail letters, welcome and renewal packs, flyers, inserts, marketing emails and online work. If you need a practical guide to looking after your home, check out the Home Emergency Guide that I wrote for HomeServe here.