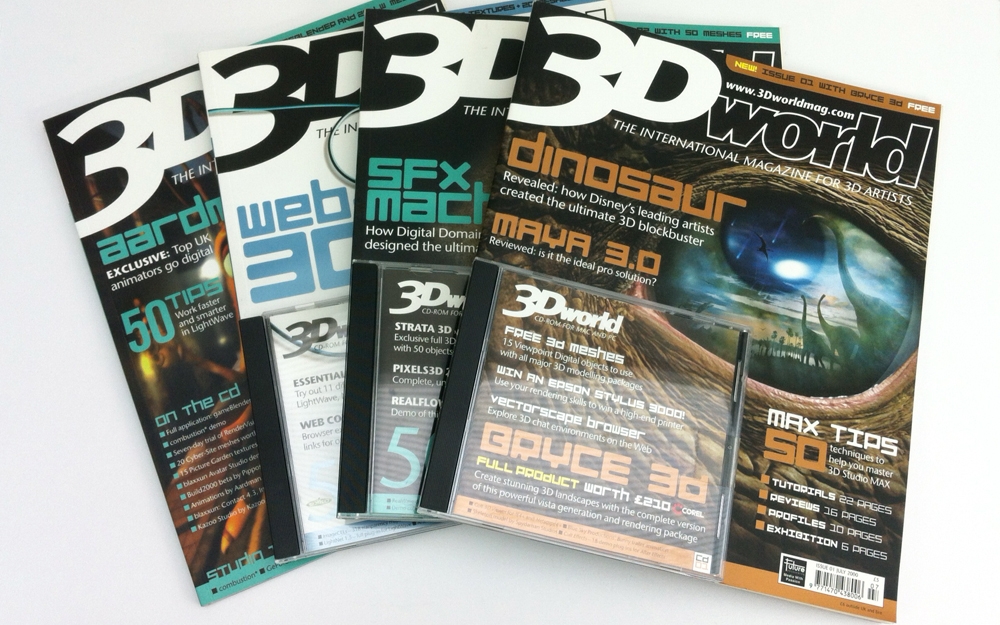 In the year 2000, the lion's share of my professional energy went into the launch of 3D World, a magazine for creative people working in 3D and special effects. It's still going today, with over 200 issues in print.
3D World was positioned alongside Computer Arts and cre@te online in Future Publishing's stable of creative titles. How did it all come about? Well, I took the idea for the magazine to publisher Jon Bickley, along with a features list and a flatplan. The advertising team looked into how much ad revenue it might generate and before long we were being interviewed by the board of directors at Future. They wanted to see whether our market knowledge was up to scratch and to scrutinise whether such a niche magazine could survive. I remember being particularly nervous when Greg Ingham and his colleagues asked me about the marketplace and my experience, but I was enthusiastic about the possibilities ahead.
Building a team and reaching out to an industry
When it got the go-ahead I had to find potential writers we could use, and let everyone in the industry – both creatives and the 3D software companies – know what we were up to. Along with some great freelancers, the magazine team were a super-talented bunch and produced great layouts and some wonderfully thorough writing. Films, TV, games, design… we wanted to cover it all with an inspiring mix of news, features, artist profiles, tips and tutorials. We tried our hardest to make sure that the coverage was accessible enough for people just coming into 3D, with more in-depth elements for the experts out there. I think we pretty much pulled it off.
It seems absurd in today's world of high speed broadband, but back then we had a cover-mounted CD-ROM with each issue and tech readers expected free software and other resources to come as standard with their magazines. Consequently, another of my responsibilities was negotiating with software companies to get fully working software on the disc every month. This often took a great deal of commercial acumen, to say the least! Issue one came with a full version of the 3D landscaping application Bryce.
Perhaps the biggest highlight was attending Siggraph 2000 in New Orleans. We'd only done two issues of 3D World and already the industry had embraced our work. Issue two had a digital image of James Brown on the cover, and on the way to New Orleans one artist saw James Brown in an airport somewhere and asked the lovin' machine to sign a few copies of the magazine. The artist gave us a copy and it remains one of the best mag industry stories I've been involved with.
After only three-and-a-half issues of 3D World, I was recruited to edit Computer Arts with its broader readership and much larger circulation. If I have any regrets in my career, one of them is not staying on 3D World longer – I loved working on this launch.