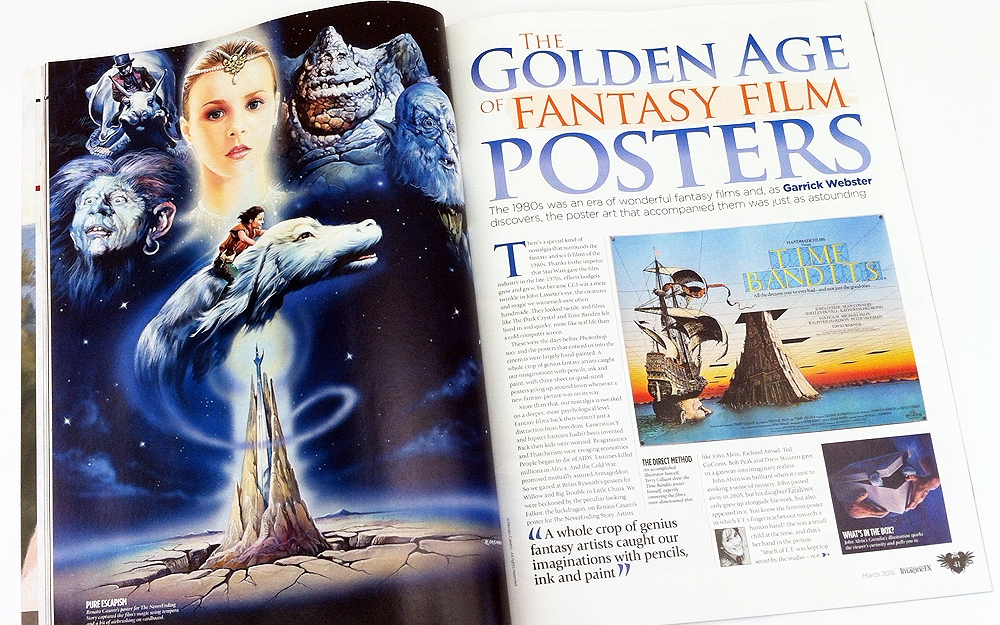 So this dream project began with a brief from ImagineFX editor Beren Neale that went like this: "Would you be up for writing a feature on the classic age of film poster art? Yeah. Classic. I mean the posters that were made for all the films I grew up on. Labyrinth, Legend, Never Ending Story… all that."
That's not the kind of commission I can easily turn aside, and Beren and I planned this feature meticulously, focusing on the 1980s and arguing a great deal about just which posters should go in. I won out on the likes of The Dark Crystal and Raiders of the Lost Ark, while he insisted on Willow and Big Trouble in Little China.
I contacted some brilliant people during my research. Ted CoConis, who painted the Labyrinth poster, was a real gent, as was Renato Casaro, who painted over 1500 movie posters during his career including The NeverEnding Story. Sadly, a couple of big names of the era have passed away but John Alvin
's daughter Farah provided some excellent quotes and his wife Andrea sent us eye-popping hi-res imagery. Adam McDaniel is an expert on the artist Richard Amsel, who painted the fascinating poster for The Dark Crystal. He made some very insightful points on creating posters in that era.
The article ran in issue 132 of ImagineFX, cover dated March 2016.
Here's the first couple of paragraphs of the article:
There's a special kind of nostalgia that surrounds the fantasy and sci-fi films of the 1980s. Thanks to the impetus that Star Wars gave the film industry in the late 1970s, effects budgets grew and grew, but because CGI was a mere twinkle in John Lasseter's eye, the creatures and magic we witnessed were often handmade. They looked tactile, and films like The Dark Crystal and Time Bandits felt lived in and quirky, more like real life than a cold computer screen.

These were the days before Photoshop too, and the posters that enticed us into the cinemas were largely hand-painted. A whole crop of genius fantasy artists caught our imaginations with pencils, inks and paint, with three-sheet or quad-sized posters going up around town whenever a new fantasy picture was on its way.
Another touching aspect of the work was the inclusion of David Bowie. He was central to the film Labyrinth and, indeed, its poster. A cover image that montaged elements of all the posters that I wrote about was commissioned with Bowie at its apex. During the magazine's production schedule, David Bowie passed away. It was a very sad time but it was pleasing that this great talent was, coincidentally, part of the article.